Only for a Short Time: Ulysses T-Shirts!
Forget about long sleeve tops and hoodies; T-shirts are the new hot! Hiplength, short-sleeved, made from cotton or cotton blend, and garnished with a chest print created by designer Philip Ackermann, the new Ulysses shirts are must-haves for fashionable writers of all sexes.
Both T-shirts Ulysses Glyph and DNA are now available for pre-order with Cotton Bureau.
We were lucky to catch busy Philip at his desk, and asked him a couple of questions.
Why do writers need T-shirts?
Long-sleeves and hoodies sure are cozy when it's cold outside. But when you are burning hot from an ecstatic session of knitting plot-twists and chiseling out compelling characters, you're at risk to overheat. This is where T-shirts come in ?
You've created two different designs. Let's start with Ulysses Glyph – what can you tell us about the design?
Germany, around 1450. Printing books is an incredibly lengthy process involving big wooden blocks, each letter individually engraved into them. Then, a man by the name of Johannes Gutenberg introduces the movable-type printing press in Europe. It will change the world.
Among other things, Gutenberg invented the hand mould which allowed producing large numbers of metal letterpunches at a low price. They were versatile, re-usable and easy to operate. Today, every piece of our digital equipment is an evolutionary step originating back to the dawn of typesetting.
The Ulysses Glyph is an homage to the beautiful handcraft that is still present in our everyday lives developing Ulysses.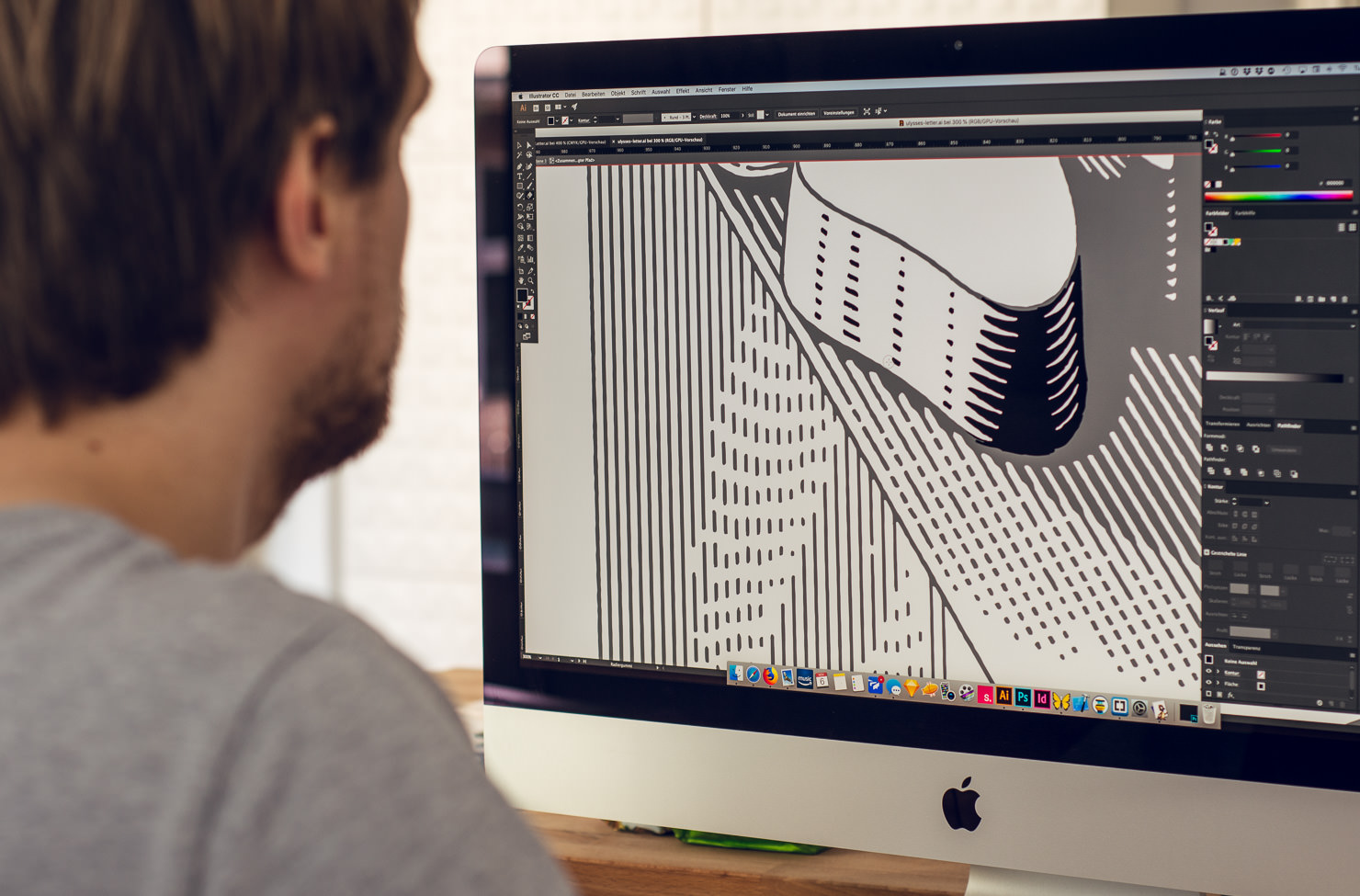 The design is delicate and reminds of an etching. How did you approach its realization, and which tools did you use?
The challenge is to use consistently spaced lines with varying widths, directions and cut-offs to represent shadow, light, and texture. Studying countless antique artworks helped a lot. Adobe Illustrator offers a handful of great tools that helped to create that realistic and organic look.
The other design is called DNA. Please explain what it is about.
The iconic bitten fruit is Apple's trademark since the mid-1970s. The first official version of this often-altered logo incorporates six horizontal colored stripes, the "Apple rainbow."
The DNA shirt is reminiscent of that logo. It's an expression of our spiritual bond with Apple – in their way of problem-solving and through the tools they provide that help us make Ulysses better.
You can preorder the new Ulysses shirt(s) starting now with Cotton Bureau; the last chance is November 21, 2018. After that, they will be printed and shipped within 3-4 weeks.
All profits will be donated to the German NGO Ingenieure ohne Grenzen e.V. ("Engineers without borders"). In Africa, Asia, and Latin America, the organization supports schools through establishing basic infrastructure, to help ensure classes can take place on a regular basis and improve learning conditions for students. The projects include the provision of electrical power supply, water, and sanitary facilities, as well as the construction of schoolhouses.
---