A couple of weeks ago we asked you to join our small competition and share a Rich Text style on the Ulysses Style exchange. Thanks for your good-looking submissions — it was a tough choice! We proudly present the hottest new styles, crowned by The Soulmen jury.
The Winner Is… Fake Fountain
No nifty makeup, but fake Fountain markup is what makes the winner style so charming, according to the jury. Working in the glamorous film industry, Fake Fountain acts as a mimic of standard screenplays and scripts. To enjoy its benefits, authors will have to adapt Ulysses' markup flavor to screenwriting needs. In her blog, creator Jennifer Mack describes in detail how to do it. We've tried it, and we think the result is quiet impressive. Bravo!
Of Timeless Beauty: Simple Novel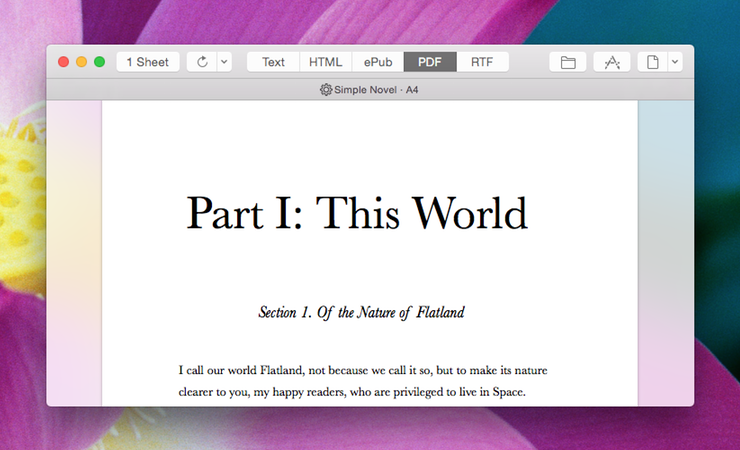 Devoted to its own concept of classic elegance, Simple Novel doesn't care about the latest fashion. Featuring the old-established Baskerville font and equipped with an explicative description, the jury found it to be an excellent choice for manuscript submissions.
Focus on the Inner Values: Document Review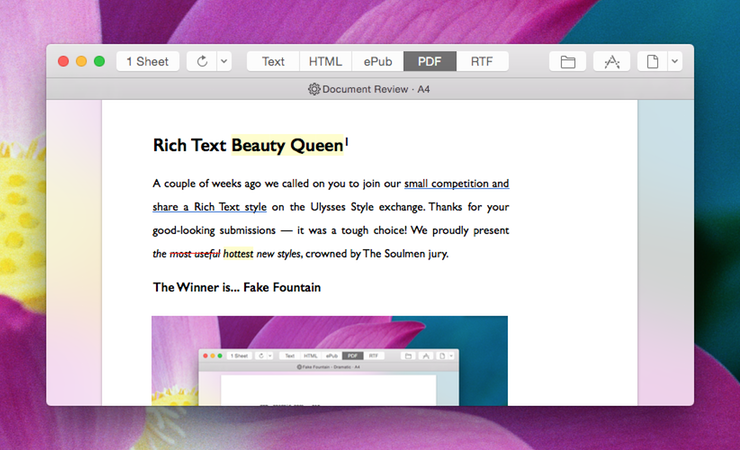 Far from being shallow, Document Review puts emphasis on being useful for its purpose. It provides double-spaced lines, extra-room for handwritten comments as well as visible markup deletions and annotations. The jury's verdict: First class for text revision!
You can meet these (and many other) belles of the export on our Ulysses Style Exchange. Thanks to all participants of our contest!
---