Medium is a platform that allows you to publish your stories, thoughts and ideas online. These stories are presented in a beautiful and elegant way and find their audience independent from a specific blog or news outlet. This is why Medium is becoming more and more popular with bloggers and writers alike.
While you were previously bound to using the Medium web interface for writing your story, you can now use Ulysses for Mac to publish drafts directly from the app to your Medium account(s). You can do all your brainstorming, drafting, editing and previewing in Ulysses and – as a final step – press the Publish button in Medium.
Set Up Your Account
Integrating your Medium account into Ulysses is quite simple. Log in to your Medium account, click your user icon at the top right and select Settings. From there, scroll to the section "Integration Tokens" at the very bottom of the page.

After generating a new token to use with Ulysses, select and copy the token. Next, go to Ulysses, open preferences, select Accounts and click the "Add Account…" button. You can now paste the integration token into the text field: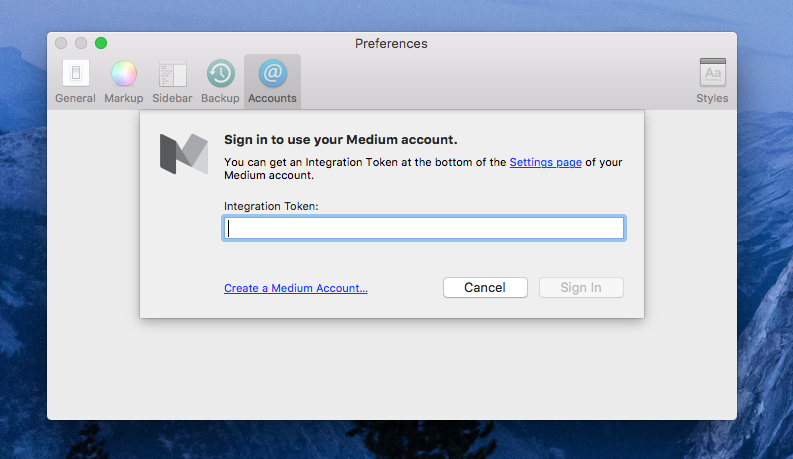 Click "Sign In" and your account is all set up. If you happen to have multiple Medium accounts, you can generate an integration token for each account and add it here.
Preview Your Post and Publish as Draft
When writing your post, you can use Export Preview to see how your post will look like on Medium. Simply open Export Preview using the menu "File › Preview…" (or via Quick Export) and select Medium from the popup button in the middle. For instance, here is a preview of the post I'm writing right now: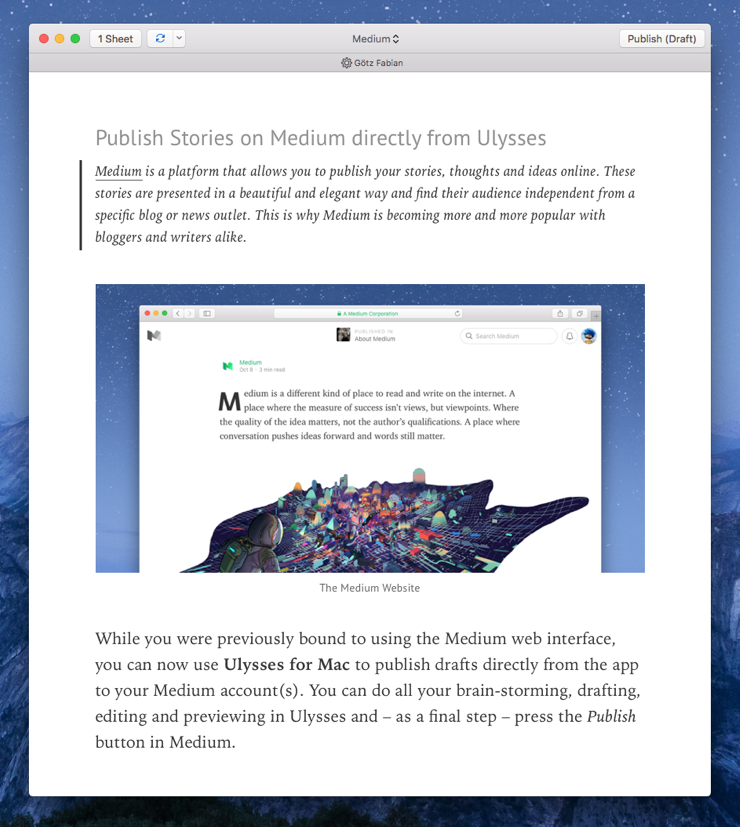 As a final step, click the "Publish (Draft)" button on the top right to send your draft to Medium. After the post has been uploaded, you can make final adjustments on the website. Then, publish your post to share it with the rest of the world.
---