Many people who write a lot — lawyers or academics, for example — also have to work a lot with PDFs: They read and annotate books and articles, or edit and sign contracts. PDF Expert is an easy-to-use, powerful PDF editor for Mac that perfectly meets those needs. Today, Denys Zhadanov, VP of marketing at Readdle, the makers of PDF Expert, introduces you to its powers. What's more, you'll have the chance to get PDF Expert at a reduced price.
Read Faster
PDF Expert addresses two major problems people are having with many other apps —  speed and working with multiple files.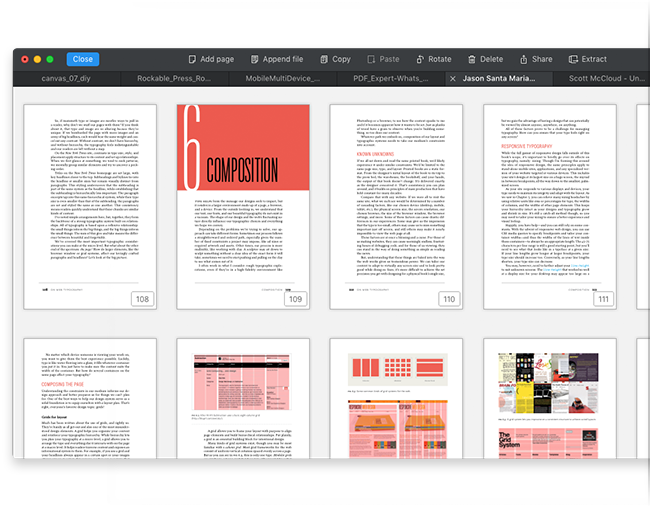 It is several times faster than any other PDF editor available for Mac. From the first document you select, PDF Expert springs into action with smooth scrolling and fast search. PDFs open instantly, whether they are just small email attachments or 6000-page reports.
PDFs + Tabs
With other apps, working with multiple open documents is an exercise in frustration, and can become a nightmare when you need to switch between them constantly. It shouldn't be that way.
With PDF Expert, each open file has a separate tab, so you can see everything that's open with just one glance. The difference is staggering, like moving from Internet Explorer 5 to the latest version of Safari.
Delightful Annotations
From simple changes to marathon editing sessions, PDF Expert lives up to its name. Powerful, yet easy-to-use tools are just a click away, allowing you to leave a mark in record time.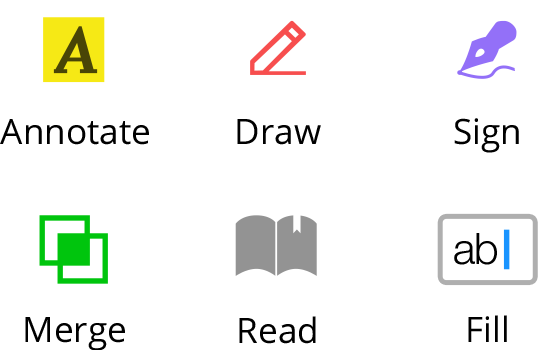 There is a full set of annotation tools from highlighters and pens to shapes, stamps, and text annotation. Changing tool properties like color, font, or shape is very easy, thanks to the dedicated panel.
Edit PDFs With Ease
PDF Expert boasts powerful editing capabilities. A single click will open a set of tools to edit your content.

Edit Text
Do you want to make changes in a contract or fix a typo in an address? PDF Expert lets you either add a new paragraph or select and edit existing text.
Edit Images
If you want to change your company's logo or insert a new graph in a business document, you're good to go! You can replace images, resize and move them, export to other apps, and more.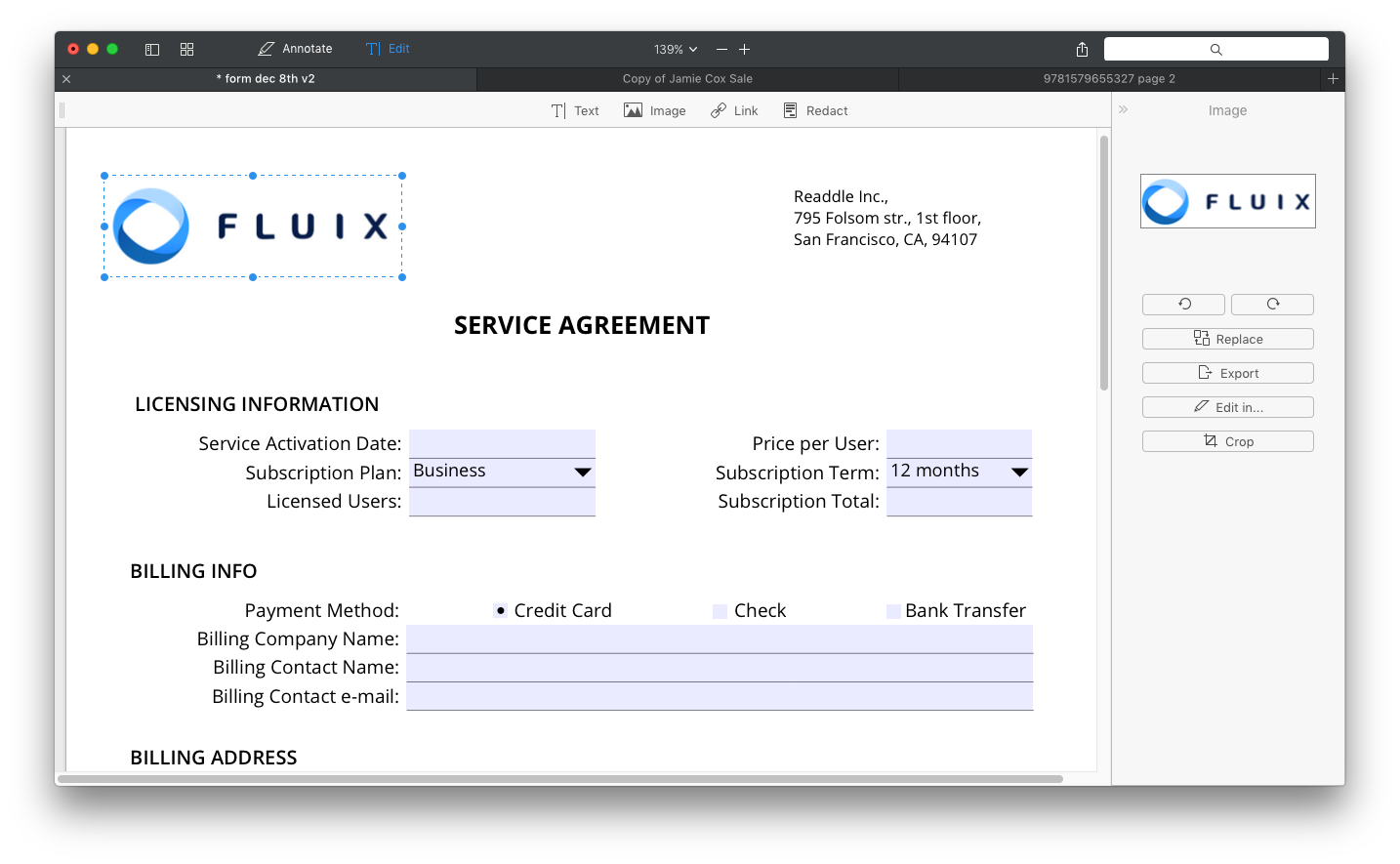 Add Hyperlinks
Just select text in PDF Expert and you'll be able to add a link to a page within the document or to an external website. This is extremely useful when writing a research paper, article or thesis.
Redact Sensitive Content
Redact allows you to add FBI-style black rectangles to hide content you don't want others to see, be it credit card data, email addresses or social security numbers.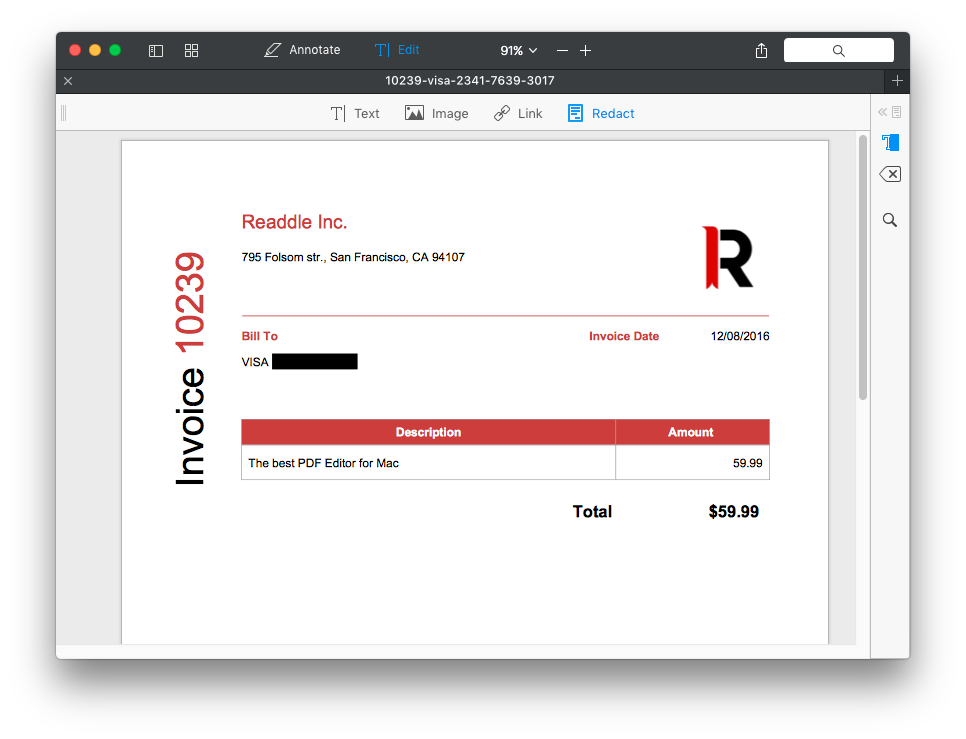 Edit Table of Contents
When navigating through a 300 page book or report, endless scrolling is just not what you need. It is much easier to switch between handy outlines. Just select a piece of text and click 'Add Outline Item' to make it easy for readers to jump to the section they want.
Merge PDF Files
With PDF Expert, you can quite simply create a new document by merging existing PDF files on your Mac. If you want to extract a few specific pages, e.g. from a sales proposal or a product catalog — PDF Expert will handle it, too.
You can also rearrange, rotate, and delete pages within existing documents, which comes in handy when working with scans.
PDF Expert is blazingly blast and beautiful, and its regular price of $59.99 is only a third of Acrobat's annual subscription. We've done everything to make PDF Expert the best solution for your PDF related tasks — now you need to make the right choice!
– Denys Zhadanov, VP of marketing at Readdle
On their website, you can download a free trial of PDF Expert. If you decide to purchase PDF Expert, you can now save $20 off its regular price.
What's more, we're giving away 5 licenses for each the Mac and iOS version of PDF Expert. Here is how to take part:
1. Craft a tweet explaining why you want to win PDF Expert.
2. Add a link to this blog post.
3. Include the tags @PDFExpert5 and @ulyssesapp.
4. Share it on Twitter before Friday, November 25, 2016
5. The winners will be chosen at random.
Good luck!
---