Ah…! You can almost smell the pumpkin spice. November is just around the corner and you know what that means, right? Time for colorful leaves, warm socks, cozy blankets and …  NaNoWriMo! Everyone… it's time to get ready. So welcome to the largest writing party out there.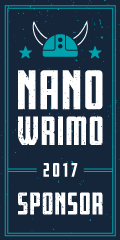 In November, writers from all over the world will take on an ambitious challenge — writing a 50,000 word novel! For the fourth year in a row, Ulysses is on board as proud sponsor, thrilled to be part of this incredible event.
To all the Wrimos out there, we have a special offer for you — a **free Ulysses trial **for all NaNoWriMo participants starting today! This year, you can use Ulysses on your iPad, iPhone, and Mac as well. And of course, your work will sync automatically among all your devices, making sure you don't lose a single minute to meet that daily word count. You can also have a look at our introductory video and subscribe to our free e-mail course to master Ulysses in no time. For more information on our offers, head to our NaNoWriMo page.
But wait! That's not all. During November, we'll be posting tips & tricks to inspire and help you succeed in your (very) ambitious quest. Make sure to follow us here, on Twitter or Facebook, if you don't want to miss them.
Giveaway for Writers and Wrimos
As part of the NaNoWriMo kick-off, we are celebrating with a BIG giveaway, filled with goodies for you to enjoy. Have a look at what you can win:
From best-selling author and loyal Ulysses user: David Hewson — 10 eBooks "Writing a Novel With Ulysses"! David describes in detail how to approach novel writing using Ulysses, covering narrative structure, planning, revision and finally exporting to Word, PDF and ePub output.
Up next, a question: What could happen if you had a small window of opportunity to change the choices you'd made, but at a cost? — Matt Gemmell's "CHANGER", the first book of his Kestrel series of action-thrillers, answers just that. We'll be raffling 10 eBooks.
Also, bestselling author Lauren Layne donated her two favorite books on writing (Many thanks!). First, 5 eBooks "Write Naked" by Jennifer Probst:
"A must-read for anyone interested in getting their foot in the door of the billion-dollar industry of the romance genre. Probst not only provides plenty of details on her actual writing process, but does so through the sparkle of her trademark wit and personality." — Lauren on "Write Naked"
And next, 5 eBooks "On Writing" by Stephen King:
"A writing book that almost needs no introduction, 'On Writing' is a vivid, honest look of what it means to be a writer, told by one of the true greats of all time." — Lauren on "On Writing"
The final entry in our giveaway is "Learn Ulysses" by The Sweet Setup — we're raffling 10 licenses of the brand-new course consisting of a series of screencasts that quickly show you all the things Ulysses can do!
How to Participate
Anyone and everyone has a chance to participate. So if you want any of this gifts, here's what you have to do:
Share a link to this post on Twitter, add the item you want to win and make sure to add the tags @ulyssesapp and #giveaway to your tweet.
Alternatively, comment on the respective Facebook post what you would like to win.
The giveaways ends October 10, 2017.
Winners will be announced here on October 12, 2017.
We wish you the best of luck with NaNoWriMo!
---