A lot of things happened in 2015: We have moved from a small and rather dim office to a bright and spacious one. Our team has also grown by more than a third – Sarah, Lea and Lara joined the old crew with Marcus, Max, Götz, Friedrich, Lucas, Rebekka, Lina and Frank. Ulysses arrived on the iPad, and we were overwhelmed (and motivated!) by positive user feedback. On top of that, Ulysses for Mac was awarded Best of 2015 by Apple. Wow. Time to celebrate!
But how? Those who have been following us over some time will have noticed that we hardly ever discount our products. Well, we have decided that celebrating this incredibly great year 2015 is one of these very rare occasions: For a limited time, Ulysses for iPad is available at half the price on the App Store. That is, you can go and buy two licenses for the price of one – to keep one yourself and gift one to your sweetheart, your neighbour or your mother-in-law.
Ulysses for iPad is the ideal gift for any writer who wants to be able to work on the road (and owns an iPad, obviously), the only thing missing is a … personal touch? Yeah, right. Complement your gift a handmade greeting card – we have prepared some free patterns for you to download.
And so we bid farewell for 2015, because software developers need to rest as well. (Customer support is of course available, except for the official holidays.)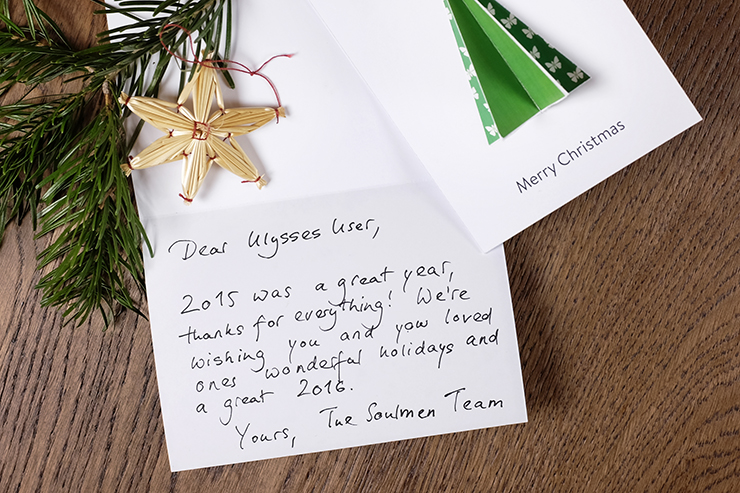 PS: Actually we wanted to give you Ulysses for iPhone for Christmas, but it took us longer than expected – sorry. But the Ulysses for iPad on sale now is the very Ulysses that will soonish become universal for iPhone and iPad Pro. Draw your own conclusions ;-)
---