Today's tip is about a tiny feature that still can be of great help for a writer's workflow: bookmarks. The idea of bookmarks is as simple as obvious: remember a certain text passage. In our case, a bookmark always refers to a paragraph. Bookmarking is really easy. Just double-click the number of the paragraph you want to remember:
You don't see paragraph numbers in your sheets? Then you need to enable them first in the menu View › Show Paragraph Numbers.
A bookmark remains attached to its paragraph even if you add or remove text in front of it. You can move it to another paragraph or erase it by dragging it out of the window.
What's more, bookmarks will also show up in the Navigator: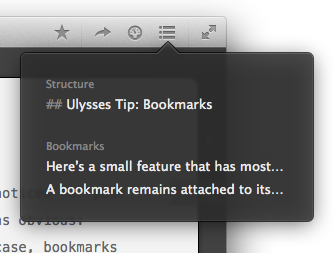 Use the Navigator to get quickly to paragraphs you want to continue writing, revise or mark for any other reason. Just press CMD-8 to open it – you'll find your bookmarks right there.
P.S. Bookmarks will only work in the sections iCloud and On My Mac, but not in Daedalus or External Sources.
---