Congratulations to all succeeding NaNoWriMo participants! The writing feast is over, and for many writers it was a great leap forward towards the fulfilment of a dream: writing a novel, and in the best of cases publishing it and even finding a glowing readership.
2014's NaNoWriMo was special for us, because it was the first time we supported this event as sponsor. It was exciting, not only because we were in good company of well-established applications such as Scrivener and Storyist. Would novelists make use of our offer to give Ulysse a try? Would they like working with it?
My writing production
has increased. It's a
pleasure to use.
We have always thought of Ulysses as an application for writing all sorts of texts, not only novels. Because, honestly, least of us do write novels all the time – but a great deal of less eminent texts, such as blog posts, diaries, love letters. We want Ulysses to be a place – although a virtual one – where writers love to go to every day and feel at home.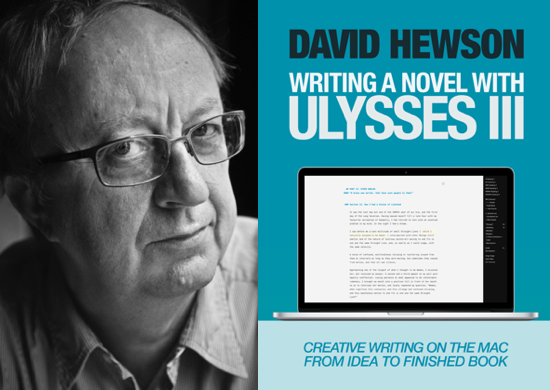 3k words in and already loving this one. It's my new favorite place to write!
So, did writers like working with Ulysses? Quite a few novelists downloaded our dedicated trial version, and from their feedback we take that they liked it! The success of our first NaNoWriMo as sponsor confirms that Ulysses is well suited for novel writing. So does David Hewson, whose book inspired many Wrimos to give Ulysses a whirl or, if they already have been working with the app, to use it for novel writing for the first time.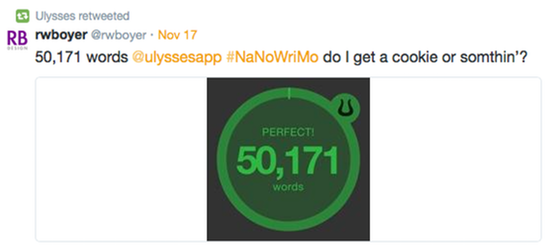 Ulysses occupies that space between too sparse and too much!
We also got a lot of positive responses by writers commending Ulysses' focus on the essentials and reporting how they benefit in terms of concentration and productivity. Thanks for your nice words, we appreciate them a lot. And for your suggestions, too – they are going to help us make Ulysses even better.
Thanks to anyone who wrote her or his novel with Ulysses, and congratulations to all NaNoWriMo winners! If you want to make Ulysses your permanent writing environment, you can buy it on the Mac App Store.
---