For software developers, the immediate time after a new release is… thrilling. After what seems like endless days and nights of iteration, small-problem-solving, big-problem-causing, tweaking, tweaking and tweaks tweaking, you finally submit, release – hoping the love and dedication you put into the app will get noticed. And the app be loved back.
So last week we released Ulysses III 1.2 – and we're still overwhelmed by your response.
Fantastic media coverage
Dear journalists and bloggers, thanks for picking up on the new version! We read every article we could get our hands on, and we truly appreciate your appreciation. It's great to know writers love a writers' app. And we welcome every piece of constructive criticism.*
Two reviews kind of stood out. Matthew Guay is an early adopter of Ulysses III, and he had already published a rather enthusiastic review on AppStorm. That was back when the app was first released a year ago. And it's just wonderful to read his in-depth article on 1.2, which closes with "INSANELY GREAT". This is an update after all, and as such it should please existing users as much as it should win new customers. Looks like it does.
Another review that made our hearts jump was published by author and photographer Benedikt Bentler on the German blog Journalisten-Tools.de. It highlights the beauty and efficiency of Ulysses, and in fact contains so much praise, that Benedikt is obliged to ad a post scriptum: "This is not a paid article." But, hey, money can't buy love anyway!
Mac App Store feature
This one is big, of course. You can't plan this, and it's just awesome when it happens. No need to further stress that we're happy and proud, eh? And thanks for all the stars.
Tweets, retweets, mentions and stuff
Feedback is power. And positive feedback is power squared – our number one source for motivation. Sure, sales help, no kidding, but you can't beat personal responses, thumbs ups, short messages of love and thank you notes. So please keep 'em coming!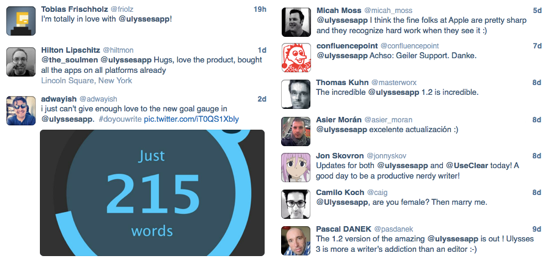 And make no mistake – every bit helps. To spread the word, to improve the app, to keep us going. Mail us, tweet us, like us, write a review or just rate our app in the Mac App Store! Thanks a lot. You are appreciated. <3
---