Ulysses is made with love and attention to detail. Here are four hidden features that can help improve your efficiency and keep you in your creative flow. The first three tips focus on Ulysses for Mac, whereas the last tip is for the iPad users out there.
Navigating Your Sheets with the Arrow Keys
In case you're one to write long sheets with many (sub-)headings, the Navigation panel is the best way to jump to different headings and/or bookmarks. Press the respective in the toolbar to open it, or use the shortcut ⌘8 (command-8).
If you're keen on staying in the flow without having to move your hands from the keyboard, just use the arrow keys and Return to jump to any heading within the sheet itself.
Finding Your Sheets When Using Filters
Filters can be used to group certain sheets together, based on a number of different criteria. For instance, you might keep a filter with your "Work in Progress", but would like to jump to the group containing the actual sheets, because you'd like to look at the context. In these cases, "Reveal in Group" is a very handy feature, which can be done by right-clicking on your sheet in the filter. This way, Ulysses automatically jumps to the correct location, opening the sidebar if need be.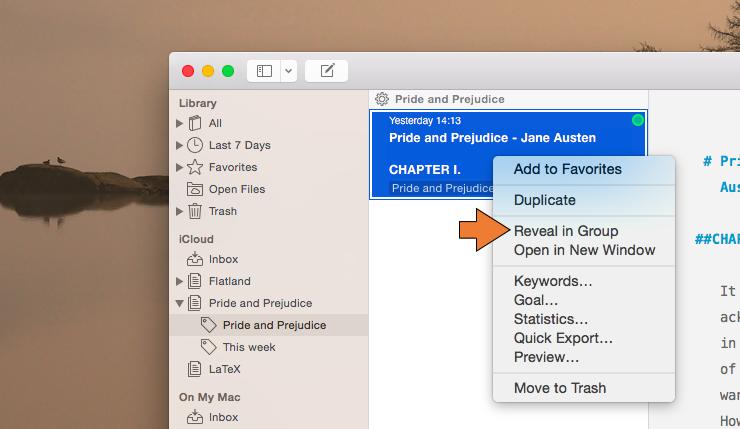 Jumping Back to Where You Left Off
In case you'd like to resume working on one of your sheets, just double-click on it in the Sheet List to automatically resume writing where you last left off. This nifty trick actually works for all sheets, also those you haven't been working on for a while.
Reordering Groups on the iPad
On the iPad, creating and moving groups around is just as easy as on the Mac. However, due to the absence of a cursor, there are some extra steps involved. This is where the "Edit" button on the bottom of your sidebar comes in. When you tap on it, a button with three Bars is revealed behind each group. These are the "handles" – just press and hold any of these to move and reorder your groups.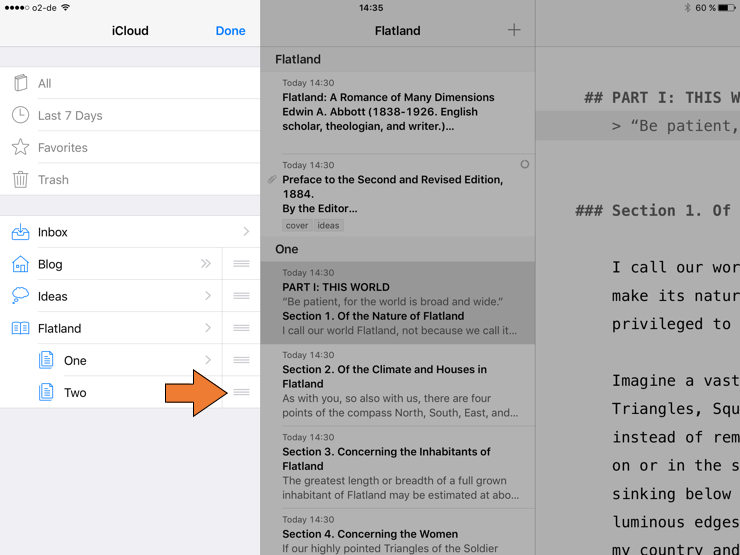 You could also change the group hierarchy this way. By dragging a group to the left, you can move it higher, and dragging it to the right turns a group into a sub-group of the group above.
---